BIM is a digital form of construction and asset operations. It brings together technology process improvements and digital information to radically improve client and project outcomes and asset operations. BIM is a strategic enabler for improving decision making for both buildings and public infrastructure assets across the whole lifecycle. It applies to new build projects and crucially, BIM supports the renovation, refurbishment and maintenance of the built environment – the largest share of the sector. [EU BIM Taskgroup Handbook, 2018]
The first couple of items in this list provide quick general introductions to BIM. Those further down the list provide more detail and depth.
BIM Brochure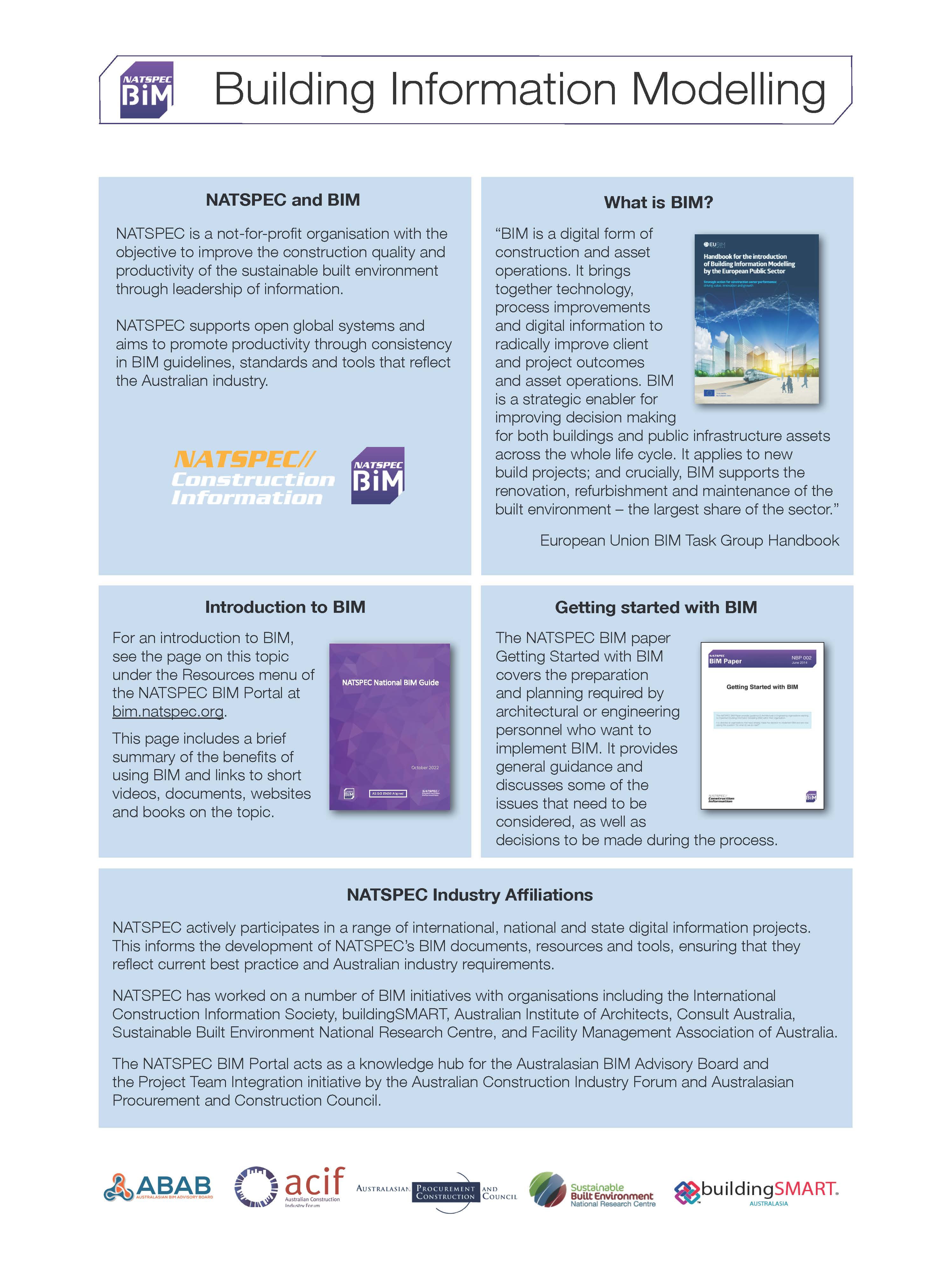 BIM Brochure [775 KB] Download
Short animated introductions to BIM
www.youtube.com/watch?v=5Qj9pI5us7o&feature=email 3:28 minutes.
www.youtube.com/watch?v=FPaja7mLiTE&list=PLlg8ai1ZGTovuwDDAr_85aFD7UbR2AI1d 6:12 minutes.
Documents
www.bsigroup.com/en-GB/Building-Information-Modelling-BIM/
Download a 20 page overview of BIM by the British Standards Institution from this page.
http://wp.architecture.com.au/bim/groups/
Download documents on a number of BIM topics from this page of the Australian Institute of Architects/Consult Australia BIM/IPD website. The 33 page BIM Outreach document explains BIM to different industry stakeholders including clients, architects and consultants, contractors, Facility Managers and manufacturers.
Websites
www.wbdg.org/bim/bim.php
This page of the Whole Building Design Guide gives a brief overview of BIM. Much more detailed information can be found by following the links on the page. Many of the links relate to US activities in this area, so not everything will be applicable to Australia and New Zealand.
www.designingbuildings.co.uk/wiki/Building_information_modelling_BIM
The Designing Buildings Wiki includes a number of articles on key BIM topics. Most of the standards referenced are British and most of the external links are to UK websites but the Wiki offers concise coverage of many universally applicable BIM concepts and practices.
buildingsmart.com/
buildingSMART International is the preeminent not-for-profit organisation promoting open (non-proprietary) standards for data exchange and the use of BIM internationally. Some of the content of this site will be a bit esoteric for those new to BIM but pages like 'About us' and 'Resources' contain more basic information.
buildingsmart.org.au/
The buildingSMART Australasian chapter website details local activities and events to do with BIM.
Books
www.amazon.com/BIM-Handbook-Information-Designers-Contractors/dp/0470541377/ref=sr_1_1?s=books&ie=UTF8&qid=1315186631&sr=1-1
BIM Handbook: A Guide to Building Information Modeling for Owners, Managers, Designers, Engineers and Contractors by C. Eastman, P. Teicholz, R. Sacks, K. Liston.
This book provides a comprehensive coverage of BIM in a single document.
The Benefits of using BIM
Coordination
Models show the spatial relationships of building elements and, just like real buildings, virtual models are comprised of virtual components and elements.
Relationships between elements are updated as the modeller modifies the model.
Drawings are derived from the model by viewing it from whatever vantage points are required, including slicing it to produce floor plans and sections.
Because all drawings are derived from a single model, many of the errors caused by a lack of coordination between documents created separately by 2D CAD systems are eliminated.
Communication
3D images can be immediately grasped by most people and are less susceptible to misinterpretation than 2D images.
BIM improves communication between designers, but more significantly, between designers and anyone relying on, or affected by, the proposed building including clients, building assessors, local communities and contractors.
Data management
In addition to generating graphical representations of building elements, modelling software manages data associated with each element of the building.
This data is updated automatically as changes are made to the model.
Reports produced at any time will reflect the current state of the model.
Being digital, this data can be easily stored and transmitted, and rapidly searched sorted and filtered as required.
Provided it is suitably structured, data can be created once and then updated, modified and repurposed over the whole building lifecycle.
This saves having to recreate, reformat and interpret information each time it is handed from one party to another; significantly reducing the risk of errors, omissions or misinterpretations.
Analysis and simulation
Data associated with the model can be used for quantity take-off and costing.
It can also be used to simulate various aspects of the proposed building's behaviour such as structural, thermal, acoustic, lighting and fire performance.
The relative ease of accurately recalculating performance following changes to the model allows different design options to be explored and optimised.
Even relatively small improvements in areas such as energy consumption can have far reaching benefits, as a building's operation and maintenance costs represent the greatest proportion of its total lifecycle cost.
Improved working methods during design
The improved communication BIM offers provides an opportunity to engage clients, contractors and other stakeholders much earlier in the design process where the greatest value can be derived from their input.
Improved productivity during construction
BIM can be used to model the construction process, allowing better planning of site activities and optimisation of the construction sequence.
Buildings can be set out more quickly and accurately.
As building elements can be modelled, documented and manufactured with greater precision, more can be prefabricated off site and incorporated in the building with greater confidence.
Items can even be manufactured by computer controlled machinery using digital model files.
All of this can improve construction quality, improve on-site safety, shorten construction programmes and reduce costs.
Better information for facility management
Data generated during design and construction can be readily passed on to Facility Managers to assist them in operating and maintaining buildings more effectively.
With appropriate procedures in place, capturing this data is easier than with traditional paper based methods.
With the productivity gains it offers, BIM can transform the whole process of procuring and operating facilities.